About Us
We are a small app development company made of parents who have a big passion for technology and helping kids. With children of our own we recognize the importance of teaching and working patiently with our little ones to help them achieve their potential. Technology can be an amazing tool in this process and we take great care and pride in the apps that we create.
We are lucky enough to have our offices located in the beautiful states of Utah and Texas. Being both Utah proud and Texas proud we LOVE our skiing and we LOVE our BBQ!
In November of 2011 our first app, Articulation Station was available on the App Store and a few months later
Articulation Station Pro was introduced. We've since released several additional apps including a Spanish version of Articulation Station called Articulation Station Español, and Articulation Test Center which is our award-winning (and very flexible) articulation and phonology test.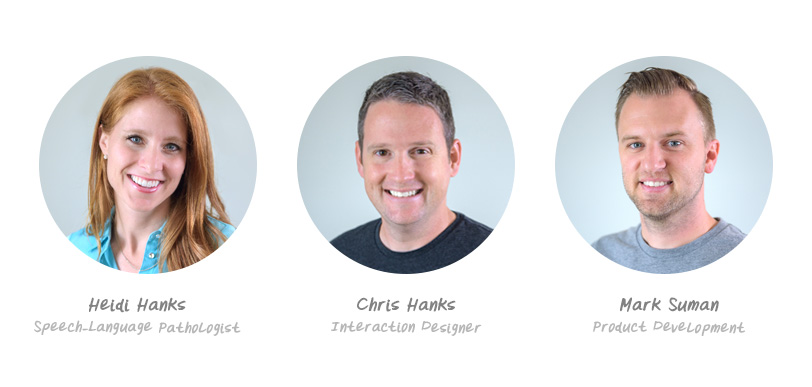 Heidi Hanks, M.S.CCC-SLP
Our Speech-Language Pathologist and the writer of the curriculum behind the Little Bee Speech apps. Heidi has been a practicing Speech-Language Pathologist since 2000. She graduated from Utah State University where she completed both her Bachelor's and Master's degrees. She began her career in early intervention and then started her own private practice in 2005 where she has worked primarily with pre-K through school age kids.
Heidi is now writing and developing apps for Little Bee Speech. She is also the author and curator of her blog Mommy Speech Therapy which she has been writing since 2007 where she offers parents tips and techniques to help their children improve their speech and language development.
Most importantly, Heidi is a mom to four wonderful kids of her own who keep her busier than ever between carpools, dance classes, basketball games, and scheduling playdates.
Chris Hanks - Graphics & Interaction Designer
The many hats of our lead designer and resident drummer/desk tapper include creative director, marketing director, video editor, customer service, web editor, and most importantly, master of Heidi's "Honey-Do" lists. Chris has been an interaction designer since 2007 and along with Heidi is one of the founders of Little Bee Speech.
Mark Suman - Product Development
Our avid hand washer and master of 1's and 0's, Mark has been writing iOS code since the pre App Store days. With an extensive background in educational app development Mark keeps our Little Bee hive buzzing with progress. Some of Mark's additional accomplishments and adventures include sending a camera into space to take pictures of Earth, playing board games with his daughters that teach them fundamental programming skills, and accidentally walking into a live mine field and carefully retracing his steps to get out safely... wait, what? Yep, true story!
Our Philosophy on Using Apps in Therapy
While we believe that mobile devices such as the iPad and iPhone have had a tremendous impact on how therapy services can be delivered and how these devices can engage children on a different level, we believe that the most effective therapy comes from personal interaction with a therapist and/or parent. We strongly encourage the use of these devices (as well as our apps) to be used together with a teacher, therapist or parent to not only help the child get the most out of the app but to keep them on the road to success in reaching their therapy goals!